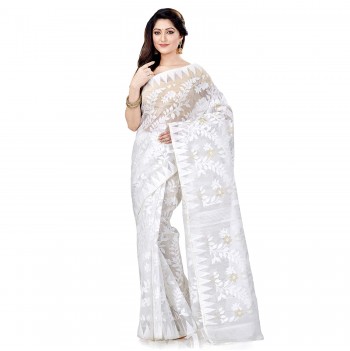 is soft dhakai jamdani saree best for this puja?
13/10/2020 | Subodh Kumar
Durga Puja usually happens in the month of October, so the 2020 is no exception. As we all know that this month is very humid month with moderately high temperature. So, roaming with friends wearing a saree in crowded streets by maintaining your style isn't an easy task. Here comes the selection of the quality of the saree or fabric. If you drape something light-weight, soft, cotton fabric then you'll easily able flunt your style without compromising the comfort. That's why we recommend Dhakai jamdani saree as the best saree to wear in Durga Puja. Let's explore the reason behind this.
Bengali women like to wear these sarees in all sorts of events, festivals, marriage party & any special event that requires exclusive attire.
As Durga Puja is the biggest festival of Bengali. That's why Dhakai Jamdani Sarees are must in this occasion. Intricate detailing and elaborated ornate design in the form of various motifs are the distinctive features of this saree. Along with the floral motif, weavers craft handwoven geometrical shapes that makes this saree more alluring which is enough to give you a perfect ethnic look. As these sarees are made up of pure cotton fabrics, it provides comfort and an ethnic look.
Our Jamdani Sarees are mainly combination of Reshsham/Cotton thread & Zari work. That's why Bengali Dhakai Jamdani saree is quite unique in its nature. This Saree Crafted from Resham Silk-Cotton making it ultralight in weight.
Our Skillful weavers take couple of months to craft a perfect piece of Jamdani saree to weave by hand.
You can get the best ethnic Dhakai Jamdani Sarees from us at a moderate cost. From our online store you can get 100% original Linen Jamdani Saree, Muslin Jamdani Saree, Soft Dhakai Jamdani Saree, Handloom Dhakai Jamdani Saree, Ethnic Dhakai Jamdani Saree etc. We offer original product at a very affordable price. Also, the blouse material is included in this saree.
Enjoy free 100% free deliy charge on every piece of saree. Additional 5% rebate is offered when you pay online. Enjoy high quality online shopping experience with us.