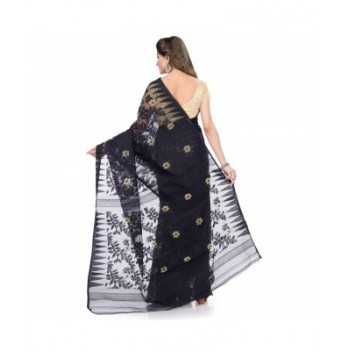 what is jamdani sarees and Dhakai Jamdani Saree?
07/10/2020 | Sanket Choudhury
The word 'Jamdani' is believed to be of Persian origin, derived from 'Jam' (meaning flower) and 'Dani' (meaning vase). Jamdani" is more a weaving technique rather than a weave generic to a place.
For the longest time it has been synonymous with Dhaka before the partition of Bengal. But after the partition Hindu weavers came to West Bengal and they continued here their weaving tradition. Later the jamdani sarees manufactured in West Bengal got famous as Bengal Jamdani. Now, you must be wondering is there any difference between these two variants? The answer is no. Because both of the variants are weaved in same traditional method using same techniques.
Different Variants of Jamdani Sarees
Soft cotton Jamdani
It is purely handloom Jamdani Sarees and mostly worn at the time of festivals, marriage party & any special event that needs exclusive attire. Soft Jamdani sarees are ultra lite weight and extremely breathable, so that every age group of women can wear it.
This variant of Jamdani is extremely popular among the young girls those who are trying drape the saree for the first time or not so habituated of wearing saree.
Resham cotton Jamdani / silk Jamdani -
when raw silk is mixed with cotton jamdani, that is called silk jamdani / resham cotton jamdani. Silk is mixed in the cotton to bring smoothness and glossy quotient in the jamdani. Resham or silk bring a class with gloss in these types of the sarees.
Tant Jamdani-
The charisma and intricate designs of Bengali sarees has lured people all over India and also across the globe. Bengali Sarees are vibrant in colour and is always handy for every type of occasion. Since Bengal has a coastal type of climate, which is hot and humid thus the sarees support the wearer the comfort.
The famous of all is the Bengali cotton sarees, which is famously known as Tant. Its considered to be the most comfortable sarees supporting the hot climate. It usually comes in bright or pastel colours with a gorgeous border and has a papery, soft texture.
How do you take care of Jamdani saree?
To maintain the soft and glossy quality of Jamdani saree proper care is main factor. Do not brush at the time of washing, We recommend for dry wash and wash separetely, use liquid starch for cotton saree, do not use hot water at the time of washing. It is also suggested to store this saree in a cool dry place using a clean white cloth or plastic bag.